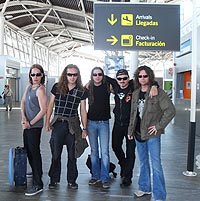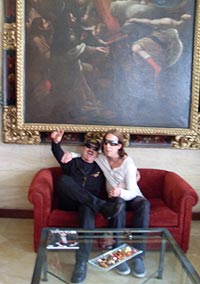 Hey There, this is a nice little report about our show at the great Metal Way Festival.
After a very relaxed drive to the airport in Brussel we had to get our flight on Friday noon via our favourite airline to the amazing city of Zaragoza. Everything went really easy going during the check in which isn´t the usual way most of the time especially if you ´ve got this amount of luggage with you but it was all easy this time.
We arrived at our Hotel in the afternoon. It was a pretty hotel right in the middle of downtown Zaragoza. Very nice. It didn´t last 5 minutes and we´ve found the first Tapas Bar. Everyone in the Band LOVES spanish food so it was pretty obvious that we all wanted to stay there. The Tapas and drinks were fantastic and we all had a superb time. Like a family vacation.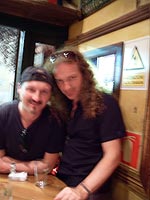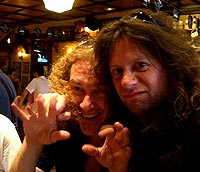 Now everyone wanted to descover the city of his own a bit but 2 hours later or something we all hooked up again at an irish pub!! What a lovely pub and thanxx again to Jason for all the free drinks!! You are da man!!
Early wake up call in the morning because we had to play very early so we´ve got picked up by a shuttle and off we went to the festival area. And geez…it was so windy. We still don´t know how the fans could sleep in their tents. It was like in the movie "Twister"…ok maybe not THAT bad but still like Independence day :-).
The Backstage area was very nice and all people there have been very warm hearted but hey we only know spain that way. After some quick chats we met up with our Backliner "Neubi" and Soundman and colleague "Basi" ( again, thanx for everything mate). Time was flying and then it was time for us to hit the stage. During our Intro, everybody was moving towards the stage and the fans gave us a really warm welcome (as always).
The spirit was amazing on stage, we all enjoyed it very much. Yes, it still was very windy but that didn´t matter. Berny talked in spanish with the audience again and everybody loved it. It´s always great fun and it gets you closer to the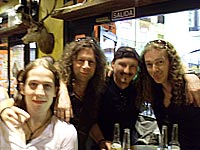 audience when you play in different countries!!
After the show we did a huge Signing Session. This tent was 100 meters away from the backstage area but we still got picked up by a shuttle to get there J love it.
We watched some bands after that and got back at the hotel late at night. We had some drinks there and just enjoyed the time we had!!! And we just knew that we wanted to be back in spain as soon as possible because it´s always terrific there!!!
Muchos Gracias!!
Rob