Tour-report-Hellish rock Part 2…oder :"Tales Of Glory Roadtrips part 2"
Hey Guys! The Tour is history now and it´s already pretty obvious that it was a success. I had some small expectations for part 2 since Part one went so pretty well. Great reactions everywhere. So I was very exciting to see if we could get the same success also in part two…so, let´s see
It all started January 4th, 2008.After a nice dinner at the Studio, the bus was ready to get to Paris where we had to play two shows.
---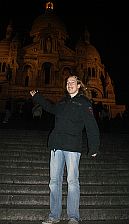 January 5th, 2008
I woke up in the bus at 1 pm. And when I wanted to take a look out of the window I was kinda surprised that we were already in Paris.COOL. There were already some fans waiting outside...wow. as you might know, I very like big charismatic cities and of course Paris is one of them. After some lunch we went to "Sacre Coeur" which was pretty close to the venue.You could see the whole city from up there…pretty amazing!!
The first show in Paris went well but we all just knew that it could be better but hey, we still had the next day to show Paris what it´s all about ;)
---
January 6th,2008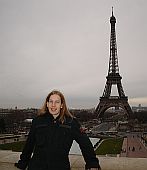 I always wanted to visit the Eiffel Tower and since it was my first time in Paris I just had to go there!! So, after changing the Metro 2/3 times we got there and it was really cool to be there finally!! Yes, Paris definitely has something special!!
After such a great day We knew that the show just had to be good! And so it was!! The second show in paris was just killer!!it was a sold out show and already at the Intro " Voices Of Destiny" all hands were up there!!! Really great…I have a good feeling that we will be back in france soon J
---
January 7th, 2008
Up to Tilburg/Holland, Holland is one of the countries where we have to get a bigger name because Axxis didn´t play there that often in the past. But what a surprise, this show was really great and after the third song "Little War ". Everybody in the audience was completely into it!!!!!! We surely didn´t expect that reaction. After this suprising gig we went to London/England
---
January 8th,2008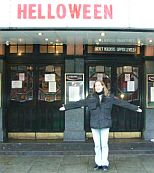 Yes, London…When I was a Kid and got in touch with Music and guitars, playing in London was always my biggest dream. And it really didn´t change during the last years. I have a couple of cool friends in London, so they were nice enough to show me the city a little bit!!thanks guys!! Much appreciated. Before that I had an interview with Dawn and Roland from "Fireworks-Magazine" I have to say that this was the best Interview I ever had so far. They really knew everything about my past, about my influences and so on. We had a lot of fun, that´s why the Interview that should have been 30 minutes long went 75 minutes longJ too cool.
The actual show in London went all over our expectations. From the beginning, everybody was into it…incredible if you think that Axxis only played two times in the Uk during 20 years of being in the business.I could have stayed here for another 2 weeks…what a city!!
---
January 9th, 2008
Off- Day in Antwerp…….ah, Off-Days are one of those things…it can be really boring but in Antwerp we had a really cool Hotel….so I slept a lot, ate a lot and in the evening, all three bands went out to the Hotel-Restaurant to have a great Dinner and lots of Red and white wineJ
---
January 10th,2008
The show in Antwerp was interesting. We met Theo our promoter and a lot of endorsers. The show was cool but different than in the other countries. We should have changed the setlist ;-)It seems to be that the people know the old stuff more than the new cd's.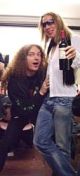 ---
January 11th, 2008
Tuttlingen/Germany…Axxis-Land. Great gig…esp. Classics like "Living in a World" are so well known over here…amazing. But hey..:Axxis played VERY often here and recorded the Live Record "Access All areas" over here….
---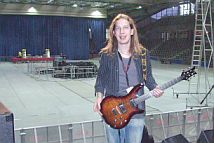 January 12th ,2008
I was very happy to play in the "Europahalle" in Karlsruhe coz it´s a big venue ( a medium Arena). The stage was huge and the Lighning was impressive as well and the audience too of course…and again…After "Little War" all arms were up there!! 8000 to be exact. Amazing gig with a lot of guests after the show.
---
January 13th,2008
Oberhausen was like a " coming home" for us…we are living close to that Area so a lot of family and friends attended that show which was absolutely great! We probably could have played any song this evening…the audience just loved the gig…Thanks!!!!!!!!!!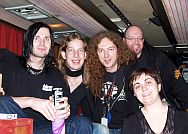 ---
January 14th, 2008
Spain, here we come!!! Long Travel day to Barcelona/Spain with some breaks here and there…I just slept actually…hey, there was nothing else to do J
---
January 15th, 2008
You go out off the bus and the weather is like during the summer…but it´s January!!! Different world but I have to say that I liked it a lot ;) same as in Paris. Many fans already at the venue at 1 pm. A lot of females this time. NiceJ. This show was recorded ( all bands) for a DVD. We will see what´s gonna come out of this. Before the show we went to the beach to have some lunch in the sun. Killer Fans, sold out show and a holiday vibe!!! What do you want more???;)
---
January 16th, 2008
Travelday to Lugo/Spain
Before leaving Barcelona, Berny and me just had to have some Sushi which was so GOOD!!
---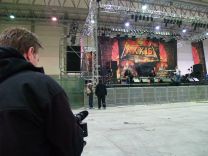 January 17th, 2008
Brrrrrr…very cold in the venue of Lugo...the dressingrooms were closed, no warm water in the whole hall....doesn´t matter ! Great show , great people again. Even though the catering was not the best in the beginning..but by the end of the day the promoter ordered a lot of italian food;-)
---
January 18th, 2008
Time to go to Bilbao..and yeah it was warmer again! Niiiiiiiice ! The venue was a small but very nice club with awesome catering!!! Killer show…Spanish fans rule!!!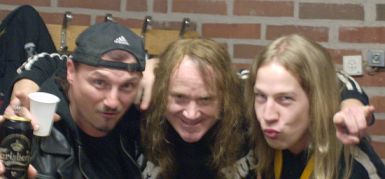 ---
January 19th, 2008
Madrid was one of the Key-Tour Shows and we did really well here…we won the crowd and had a great time! Great gig in a great venue including perfect sunny weather!
---
January 20th, 2008
Granada, The last show of the tour was a ili but further down south. Even warmer..amazing. The stage was probably the smallest of the whole tour but still we gave 120% as usual and had a great time. It was kinda sad to say Goodbye to everything…the vibe between the crews and Bands was amazing!!!
After the show we had a travel day for 1 ½ days to Germany again!! I had a amazing time with the guys on tour!! Now I´m looking forward to the next Album Production the many single shows this year!!! See you guys!!!
Yours truly,Marco