"PASSION FOR ROCK"
... AXXIS Fanclub members are singing !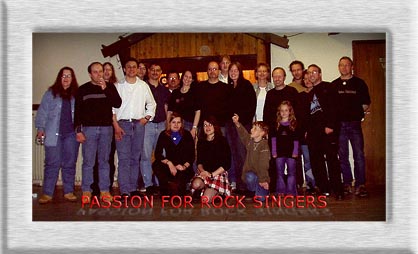 ---
Once upon a time there was born the idea to let the Axxis Fanclub sing on a CD. Somehow our King of Merch Uwe wasn't quite unguilty for that.
So Berny talked about this idea with me in Bredenborn and we phoned a week later again to find a date and to think about how this could work out. As Berny's wish is law for me I told all Fanclubmembers about the news the same evening. Although there was only few time most of the members managed to take their time for that evening and come to the studio.
Axxis cared about food and drinks and we all drove on April 29th through the traffic around Dortmund to make it to Bergkamen. Around 7 pm also the last member arrived. Lakonia was there, too, and also Guido and Rob showed up!
The big question now is wheather they have been there for the food, for curiotsity or maybe even for the work? However, Rob and Guido started their carrer as new Spielberg brothers and kept all the evening on video!
While we were all talking our "waiter" Harry asked us all to sit at the table so that he could take the order for dinner. The whole fanclub was invited by the band for dinner, thanks again to Axxis for that!
Berny (and Axxis) got a wonderful cake formed like a gold Award from Wolfgang, who organised this in the name of all fanclubmembers. Once again many thanks to him! The band really liked that surprise.
Some time later we got our "Schnitzel" which were bigger than a pizza and tasted great! Suddenly there was silence for some time because all were fighting with the "Giant-Schnitzel". 98% of the people didn't manage to eat the whole piece. J
Then we went in the studio. Berny and Harry explained to us what we'd have to do. We'd have to sind "a passion for rock – a passion for life" but first we listened to the new song. Berny waited outside at the computer in a secure distance and had fun. As we were a little "out of tune".
Harry played conductor and showed us when to sing and when to stop. We were all laughing so much, it just looked toooo funny! After several tries it wasn't even that bad… Then we had to shout "hey" in some different ways, which we did very loud!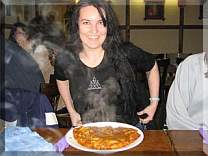 Guido and Rob hided in the corners cause they were so shocked! After this hard work we listened to our first recording session result and couldn't believe it *ggg *. But thanks to the modern technology it sounded quite good.
This is the start for our "Superstars" carrer! Then Peter showed us also the Bredenborn video and we went back to the restaurant room to talk and to destroy the cake! Around 10 pm we left to get back home while we were still singing the refrain.
Now we have to wait until January for the new record.
Many thanks to all who joined us there and of course to AXXIS who were the hosts of this very special event!

Yours, NickyTeilnehmer FC Singen:

Andrea Matysiak mit Freund Jens Heckmann

Nicky Nünning

Jay Fronteddu

Gisela Wensing

Hans – Josef Sturm

Uwe Harr

Anja Fischer ( Fischer Chöre)

Peter Quarg ( Pitti) mit Frau Katrin und Tochter Carolin

Mischa Gerhardus ( Eisbär)

Tanja Tennessee Weinekötter

Norbert "Highway to Hell" Nengelken

Matthias Apel

Wolfgang Grundmann mit Sohn David

Marcus Srnec

Peter Gröne
More fotos of this party in the gallery or click here directly
---