A report of
EDITH HEUSSNER FROM BAD HERSFELD/Germany:
---
Until one day before I didn't know if I could come to the AXXIS fan club party, because I had on this day another date. But afterwards I'm really glad that I drove to this fanclub meeting, because it should be a super fan club party. However I had a big problem to find the club called FRANZIS in Wetzlar. After a long searching for, a helpful girl escorted me to the FRANZIS.
At the FRANZIS I met Guido directly. We welcomed each other and I asked him for my friend Nicky. She was not there yet. When I go back my car, a car with the number of munich drove around the corner with Nicky, Monika and Marina in it. Later on Nicky asked me to werite this report.
In the club the fanclubleader itself stood behind the merchstand and Nicky & Norbert had a lot to do. They had to count all the visitors,because this was not an offical AXXIS concert, it was only for the fanclubmembers. Non fanclubmembers have to pay 12 Euro.
Around 21h the FRANZIS was stuffed with people(267 fans) in this small club. AXXIS were happy and and under a bombastic applause they entered the stage with EYES OF DARKNESS. And another surprise. Ritchie didn't sit behine the drums. AXXIS played with a drummer called Stefan Jeske. He was well accepted by the audience. The fantastic atmosphere in this club let the mood of the people increase from song to song.
With SUN GOES DOWN and BROTHER MOON AXXIS played with a lot of fun and it's overwhelming the fans like a fire.
Bernhard warned us that those, who are crying louder than the others, had to come on stage. After MY LITTLE PRINCESS and STAY DON'T LEAVE ME followed the goose-struck song THE FOUR HORSEMAN. And during LITTLE WAR the 1.Fan has to go on stage. Ellen from Neuss was the loudest and Bernhard got her on the stage. She has to sing for the audience NA,na,na and it sounds quiete well.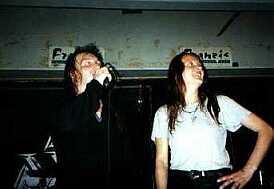 Afterwards AXXIS played the top hits SHIPS ARE SAILING, HEAVEN IN BLACK and SAVE ME, 3 of my favoritesongs. AXXIS - like they always are- were in a good mood and Bernhard was fully in action. It is simply insanity that Bernhard got this power and energy.
His relationship with the audience is unique. With TRASH IN TIBET Guido was killing his guitar and I think he will be one of the best guitarplayers in germany.
When fans from a soccerteam called Kickers Offenbach started to shout there hymn, Bernhard took Heiko out of the people. He had to sing with helium gas some of the AXXIS songs and that sounded really like Micky Mouse. Because the wife of Heiko liked it so much she could sing directly with him. That was real fun !
Afterwards AXXIS increased the mood with KINGDOM OF THE NIGHT , TOUCH THE RAINBOW, LIVING IN A WORLD and LITTLE LOOK BACK to the boiling point.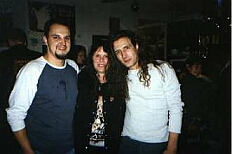 I would say that this gig was a collection of the AXXIS's greatest hits. The setlist was created with the fans, who took part on the internet poll.
Your Edith
And here is the setlist:
Eyes Of Darkness
Sun of goes down
Brother Moon
My little Princess

Stay don't leave me
The four horsemen
Fishing rod
Little war
Ships are sailing
Heaven in black
Save Me
Trash in Tibet
Touch the rainbow
Living in a world
Little look back
Kingdom of the Night
Fire & Ice
Cést la vie
The Moon
Waterdrop
Shadowman
Flashback radio
Na,Na,hey,hey,goodbye