Hello Everyone!!
This is already our second time at the great "Masters Of Rock Festival". I still have awesome memories from the first one. It was my third Gig with AXXIS back then and a good one. That´s why everyone of us had some expectations for the 2009 version and I already can say that it went even better than expected!!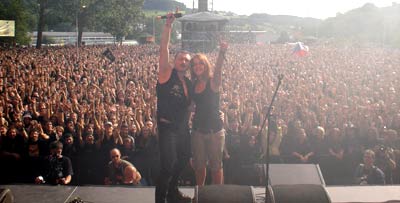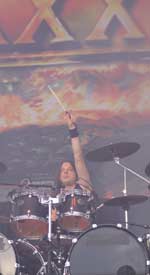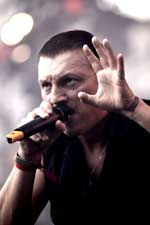 Our Flight took off Friday Evening from Düsseldorf-Airport to Vienna. After a little snack,some coffee and buying some magazines we were ready to go. It was all easy and after 75 minutes we arrived in Vienna where we recieved a nice welcome by Mr. Landenburg who arrived there earlier( he was on a different flight). We were picked up by a shuttle and now it was time to get to Vizcovice/Czech Republic. Even though it was a 2 ¾ drive we had so much fun and listened to some great music in the Car (the new Chickenfoot,Foreigner-Live and Countdown to Extinction by Megadeth).
Almost everyone was in joke-mode and there were smiling faces all over!! The vibe was kick ass!!!
We arrived at our hotel after Midnight and were welcomed by the Master of Merch Uwe Haar.
After Checking in we all went to the Irish Pub to have some drinks and some chicken wings that were amazing by the way…only the sauce was a bit strange…may be a spezial creation from that area??? who knows…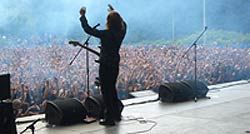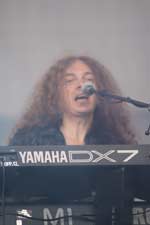 It was great to see Marcus and his friends from the Axxis Fan Club. We had a nice chat about "Queen" again ..always great. After that we went off to bed and at 12 am I got my wake up call by a sweet czech sunray…just beautiful.
We got picked up by the festival shuttle again at 1 pm and arrived at the festival area 20 minutes later and man I was so happy that weh ad our dressing room next to "Crucified barbara". Wonderful!! These girls are the best Girl Rock Band ever and they are from sweden…what more can you ask for??
We had a signing session at 3 pm and a lot of people showed up. After that I checked my guitar, warmed up and at 5 pm it was time for us to hit the stage in front of 25000 people.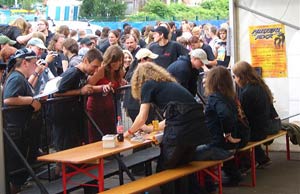 The Intro tape runs, Excitement everywhere, screaming people. Alex counts me in and now we´re off with Doom of Destiny. Killer Sound on stage, Loud Audience .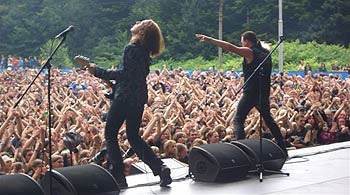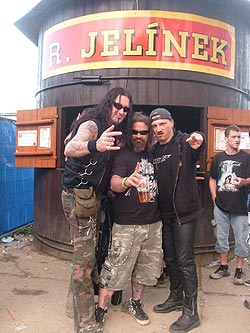 I had my best moment on stage ever during "Living in a world". (we play it quite early in the set these days) I was in a different world. Everything just felt right. During the solo of this song It was pure orgasm. The sun was up and hot and next to the stage there were many musicians watching. It felt unreal and like a movie but it was all reality. Amazing. This Gig belongs in my personal AXXIS-Top 3 Gig-List.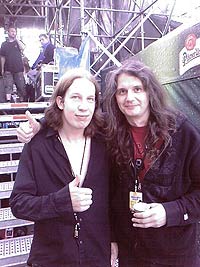 After the show we are all sure that this was a magical gig!!!
We watched some other Bands and enjoyed it very much and Alex and me had a nice talk with the Blind Guardian guys afterwards. We arrived at the hotel at 5 am and just slept for 3 hours coz at 9 am we were supposed to be picked up by the airport shuttle. Three hours later we arrived in Vienna again and after a nice one hour flight we arrived in Düsseldorf.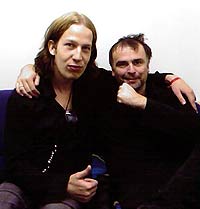 It was a terrific weekend and now I´m looking forward to the release of our new Album "Utopia"…
See you around and this is it!!!
Yours,
Marco