Hellish Rock Part I
- a personal tourreport -
by Marco Wriedt
---
Hey there my friends!!!!!!
I thought it would be time to write a little Tour Diary...since there happened so much in the last weeks AND There is also still a lot to come in the next weeks (Well, Month actually)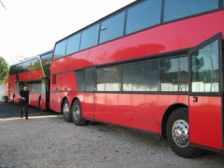 The Tour started in Roma/Italy. I hoped for great sunny weather...and I got it:). it was very warm...like a nice spring day...and we had end of November...For a german that´s pretty unreal...that´s why I loved that so much..;) First of all, this is our Nightliner for this tour.I have to admit that it is VERY comfortable to travel with such a great bus.
The concert was GREAT. I didn´t expect such a warm welcome by the italien audience...coz AXXIS isn´t THAT popular in Italy. But I think we are on a very good way to change that ;)
Next Stop was Milano/Italy and that Gig went even better. Even more people (around 4000) and again they loved what they heard. We only have 35 minutes to play (In Germany it´s 45 minutes) so it´s very hard to choose a setlist. But from the new Album "Doom Of Destiny" we played the Titeltrack and "Blood Angel" and the reaction was killer!!!!!!!!! It´s very sad that you can´t really see much of the cities when you are on Tour. I wanted to go to the City Center but there wasn´t any time...really a bummer. I really hope to see more from the cities when the second Tourpart starts.
And here we are in Dietikon/Zwitzerland....Dietikon is very close to Zurich. I´ve played there last year with "Daize Shayne" so I remember that area very well but damn this time was SO cold...(yeah, may be because we have December (???????) so the whole vibe was very different but still nice...I loved the mountains. That show went very well as well but the crowd was a bit stiff and calm in the beginning...may be because they just listened carefully to the new songs...;)...Did an Interview with 2 websites.....until next year Switzerland.....!!
Up to Munich/Germany....I always liked this city....I have some great friends there and great memories from the past. This show was a AXXIS-Headliner Show...We didn´t want any day offs. So we played the Off Days as well which was VERY cool.We arrived very early in the morning so our Tourmanager Uwe,Rob, Ana(the new female singer) ,our Tech Bogdan and me went to the city Center to do some shopping. Munich has so many great shops.We´ve found a great clothing store and I bought some Killer pant with very cool samples on it.(the same as my Myspace background).Another Highlight, well at least for me and Rob was the Kingdom of Lust. Yes, I guess you know what I´m talking about....we went to a Mc Donalds...sometimes a Big Mc makes you feel reborn :) anyway.... The Club was totally packed with 300 people. This time we played 90 minutes...and the Crowd responded to every song...South Germany is just our Area...this gig showed it again...I loved playing the Instrumental...Always fun. After the Gig I´ve met some cool friends (Caro and Chris)...Thank you Munich for a great night!!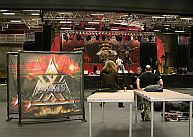 Next show was Lichtenfels/Germany...Another Cool Gig with our friends from Gamma Ray and Helloween....When I woke up I was feeling very sick...I guess I caught it in Milano when I went outside totally sweaty and shirtless at 3 a.m at night...lol...I know it was kinda stupid and my fault but I am 23, and allowed doing mistakes ;) hahaha. Even though I was sick and had a bit fever it was a cool gig with a cool crowd.
The following Gig was in Bremen/Germany and I knew that a lot of business people, friends(thanx for the present Fritz!!!) and family would be there. That was a great night...People were very loud and happy to see this package of Bands.It was great to see my parents singing along in the audience...you guys are the best! there was a cool Party backstage after the show with much fun and laughter!!!! I loved it...
Flensburg/Germany....Another "We hate Day offs" show....I was born in that area...so even more family members were there....This show was very late announced so not too many people attented...but those who were there were very thankful and loud...was like a family party there...again, I loved playing the Instrumental song...We should record it one day....
Up North to Scandinavia!!!!!!!! I´ve never been there so I was really excited and it just blew me away...First show was in Gothenburg/Sweden in an Ice Hockey Hall....
Everybody told me that he people up here are SO into it and friendly...and that was really what I experinced...Again...This isn´t really "Axxis-Land" The last time Axxis really played here was in 1989...so, a long time ago...but again.A total suprise...the crowd was singing along!! Amazing...4000 people shouting during the Intro "Voices Of Destiny"...What a great feeling to go on stage....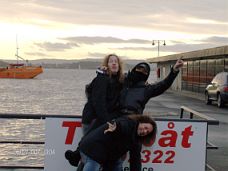 I always wanted to go to Oslo/Norway...and now I´m playing here..Crazy...We had a Day Off here in a very nice Hotel. This City is so beautiful. I really loved the whole atmosphere and vibe...VERY expensive too but still everything was worth it...Before the Gig we went on the christmas Market with Markus from Helloween...that was pretty cool. The Gig took place at the world famous "Rockefeller Club" Kamelot recorded their DVD there, so it was awesome to play there on our own. The crowd didn´t seem to know us really.Just some people were clapping and stuff...but after the show I heard the this show was the biggest Merchandise Turn out for us so far....Life is crazy:) So I guess,again, the Fans were just listening very carefully to the songs....When we left the City I went to the front to our amazing Bus-driver Evelyn(she is like our Tour Mom:)...just to see the city by night. It was very impressive...I could have stayed there for another 5 weeks I guess.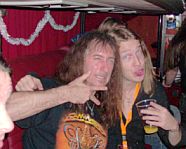 Next one was Lund/Sweden.........A small venue...but it was packed and the crowd was killer to us right from the start!!!!Great gig and great fun!!!! + the catering had some of the best Chicken Wings I ever had in my life!! and THAT´S a big compliment!!!
Stockholm/Sweden
One of my favourite shows from the whole tour...5000 people...screaming their hearts out....That City is pure Rock&Roll...was great to see my friends from jaded Heart there...Axel and Johann!!!! After the great show,we went to a killer Club called "Roxx" that was in the city center and this club rocked so hard...the whole vibe reminded me a bit to L.A....after that we went to Johann´s home to have some drinks and fun!!THANX again for everything Johann!!!!I will miss Sweden...the whole people were so into it and enthusiastic!! thank you guys for that......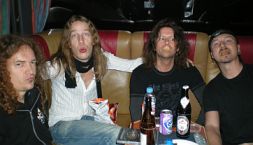 So there was one more country to come...Finnland
We had to go on a Ferry....It was like a hotel on a boat...pretty cool actually...I´ve slept the whole morning and afternoon...coz the night before in stockholm was just too much fun lol.....and too less sleep... We arrived in Tampere by night...and again...if you don´t know what to do...SLEEP:) as usual I got up at 2 p.m and this time there was a cool mall at the other side of the venue....I did some funny shopping with Henjo from Gamma Ray...We almost got back too late to soundcheck...sorry again guys hehehe. This Show was AMAZING. May be because of somebody I recognized on my left site in the crowd....First row, right before me.Maria....A special friend for years...and it was so cool to see her finally...the sound on stage was killer. Actually every show on this tour had a killer sound....a big Kudos to Michael spiess and Ernst!! you guys are just amazing!!!!!After the show I hooked up with Maria and Sirpa...we had a few drinks together and talked for ages...great special times in Tampere...Thanx so much!!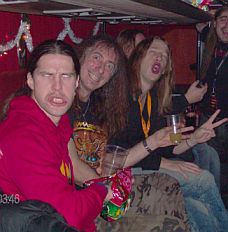 The last Gig on the first leg was Helsinki!!! I slept very long...I woke up at 4 pm or sth...when I went outside the bus...STILL sleepy..I ran into Kai from Gamma Ray..he was bored, so we went for a little walk...we didn´t see much of Helsinki again...which is -again-a shame...may be next time I shouldn´t sleep that long lol......anyway...Show was great...Big crowd again...you Rock!!!After the show we had another cool party...coz the next day was a Day Off...when I woke up the next day....it was dark but I wasn´t sleepy anymore...what happened????? right...it was again 3.30 in the afternoon and it was already dark again in Helsinki....Geez...that was strange..I guess the first day in my life that was completely dark the whole day....somehow cozy:)We entered the Ferry back to Germany at 10pm... so before that Andre,Berny,Rob and me went to another nice Mc Donalds....this ferry wasn´t as cool as the first one...actually very boring...and it seemed that we(the 3 Bands) were the only people on board lol...this was 24hour back drive....So you already can Imagine what I did...I slept,ate,Slept,ate,slept AND won over 40€ on a Gambling machine with Henjo from Gamma Ray...what a dreamteam:)..but the whole ferry was THAT boring...so we put everything back in cocktails hahahaha...that was very fun....after that I can´t really remember that much...only that I danced to "YMCA" with our Bus driver and Henjo hahahaha....hey, I told you...the ferry was VERY boring.....;)
After 24 hours of gambling around we finally arrived in Rostock/Germany...and still had to drive for another 6 hours to Dortmund....at this point of the tour...you really don´t have a Day/Night Rhythm anymore...we arrived in Germany and 10pm. and I felt like 10 a.m in the morning...so...what are you doing when you are close to Midnight but totally awake and alive!! right....you visit the reeperbahn in Hamburg since you have to drive through Hamburg anyway...call us insane but we arrived in Hamburg at 1 a.m..and Rob and me had a blast in one of the clubs there.The other guys stayed in the bus so we went to a cool Irish Pub. A singer played some songs with an acustic guitar...great last night of the tour and a lot of fun!!!...so at 3 am...we had to leave hamburg.....what a bummer...I wanted to stay...since Hamburg is one of my favourite Cities in Germany + it feels like a second Home coz it´s so close to my hometown.....Anyway...we arrived in dortmund at 7.30 am...I went to bed at 6 am...So I only slept 1 1/2 hour...GREAT....I had to drive another hour to my home...so when I got there I was ready to sleep...I went to bed at 9 a.m or sth...and slept to 5 pm....I STILL have to find the Rhythm....:) More later, as there are still so many more dates to come.....Paris,London,Madrid,Barcelona and so on.....Here we come!!!!!!!!!!!!!!!!!!!!!!!!!!!!!!!!!!!!
Before Christmas, we played another 3 shows...
The First show was in Langen (near Frankfurt). It was a great show with a lot of guests. Also with a Big stage...so you could move a lot!!! After the show we stayed at the very nice Steigenberger Hotel and had some drinks...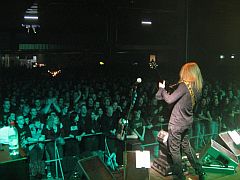 The next show was in Kaufbeuren....VERY south Bavaria...so it was hard to understand some words sometimes :) but this show was Killer...Sold Out...Big Car Racing center...a lot of press came to see this show...
It was a great night and probably one of the best shows so far...but still there was one more to go....
Our last show in 2007 was in Pirmasens/Germany... and that was a AXXIS-Headliner show....means, the full package 2 1/2 hours including a lot of Comedy ;) those who were there know what I´m talking about!!!
We played the same Setlist as in Munich and Flensburg but since it was right before Christmas...it was a bit different...Berny got a lot of people on stage which was pretty funny...and suddenly we played a very very old Christmas Song....the vibe was amazing...I can only speak for myself but for me that was the most special AXXIS Show I played so far...The crowd was amazing...They knew every song...the old and the new stuff...GREAT...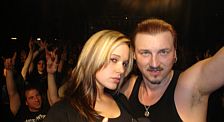 Okay my friends, that´s it...next stop Paris in one week!!! we are doing 2 shows there which is amazing....
I wish everybody an amazing 2008!!!!!!! 2007 was very nice to me but I hope 2008 will be even better ;)
Keep Rocking everybody and we will see us on the road!!!!!!!!