Merry Christmas & a happy new year
We wish you all a merry christmas and a wonderful happy new year. 2017 is going to be an AXXIS year with a new cd called "RETROLUTION", a book (in German) called "Eine Nacht im Theater" and a tour:
So stay tuned and we'll see us!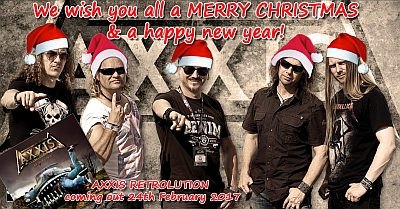 AXXIS new cd title and tour in 2017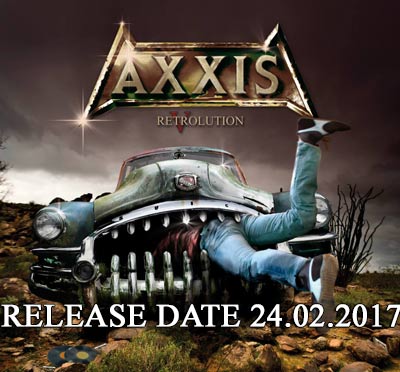 AXXIS announcing new CD release, which will be released at 24.February 2017 and a new tour, coming up in March/April 2017.
Bernhard: "I've been sitting in the Soundworx studio for several month now to record and mix the new AXXIS album and it was quite difficult to find a cd title representing all of our new songs.
But than we found out that the title was there all the time ...very close, the whole production through. We just need a word to express what it's all about.
After the euphoric digital evolution there's a kind of trend back to "retro" and "vintage". vinyl records, tape recording, rebuild of old school euipment etc.
It seems that we're all living in a kind of "vintage" or "retro" revolution. But that was exactly the time we 're coming from. And who could be better understand this than a band that has experienced this period of time...like us:-) So, we've created a title that should express this feeling and - of course - the mood of the songs! And... RETROLUTION was born!"
So the news AXIS CD RETROLUTION will be released at 24th,February 2017 and the RETROLUTION TOur will start in March 2017. Here you can get the tourdates
AXXIS new album 2017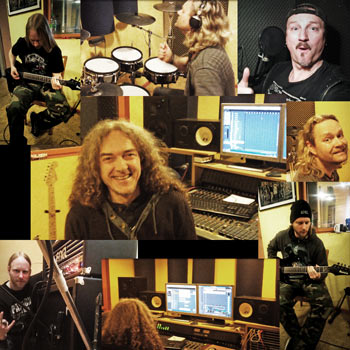 AXXIS are going to release their new album at February 24th, 2017! Again under their own label Phonotraxx and Soulfood for distribution. Right now Bernhard is sitting in the SOUNDWORXX studio mixing all new songs. Album titel and details are coming soon on this website.
Bernhard: "We really have a had a lot of magic monents during this production. We hope that we've catched them all on tape. The idea of going a little bit more into pure rock causes a lot of interesting things on this record. I'll do my best to feature this in the mix!"
Again the band will invite some fans for a prelistingen session in Germany
AXXIS fans and guests donate for LOVEPARADE
Im 2015 AXXIS decided to offer all people on the guestlist to donate a self-chosen amount for the Loveparade foundation called Duisburg 24-7-2010. This foundation helps and supports relatives and victims in a long term.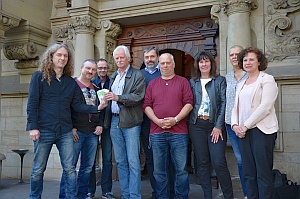 So, the result of the AXXIS collection is 700,-€.
THANXX to everybody: All fans, guests, journalists and photographers who donated for this idea. Harry and Bernhard presented the money in May 2016 directly to the foundation in front of the city hall of Duisburg.
Since AXXIS have written their song "21 crosses" regarding the Loveparade tragedy the band is in contact with the relatives and the foundation. In 2014 they have played on the commemoration for the Loveparade tragedy.
Bernhard:" We will never forget this very emotional day when we've plaved in front of all affected parents and people concerned. Till this moment I was not aware of the feedback we've got, how deep our song touched the people. They appreciate this kind of musical memorial for the victims and we - especially as a rockband- are very proud to this very emotional response!"
So, donate again whenever you want: Foundation website
The song "21 crosses"
AXXIS - SEVEN DEVILS movie teaser with THE WAR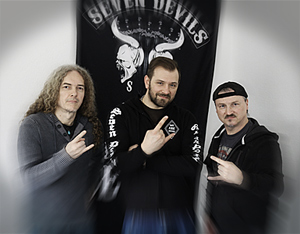 Independent meets Independent!
AXXIS are looking forward to cooperation with filmmaker Rene Zimmerman who wants to produce a movie called SEVEN-DEVILS - an independent project with an outstanding story and high-class pictures.
Two like- minded artists are working together to create a great movie with atmospheric picture and a powerful story.
ATTENTION! The AXXIS song THE WAR will be released on our youtube channel this weekend. So watch out for it!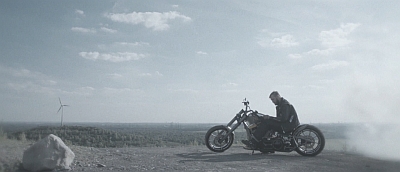 Bernhard: "We have seen parts of the film and we're impressed by the quality and the story: This is what the Ruhr area (our home) needs, an authentic, incredibly exciting and atmospheric cinema movie!
We also working with our own label and our band independently. So this fits perfectly together. To support this great but very expensive project, the Seven Devils need support by our fans.
This is our first experience with crowdfundig and if you want to see AXXIS music in a great cinema movie support us!"
Partially this project will be produced via crowdfunding: https://www.startnext.com/seven-devils
More information on www.seven-devils.de.
Luenen 675 Aniversary - AXXIS in the theater!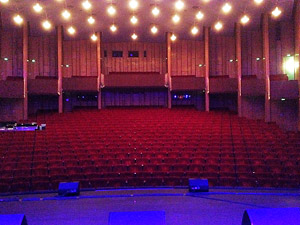 Because of the 675 anniversary of Luenen in 2016, the traditional AXXIS show in the venue Lükaz will take place in the lovely old Heinz-Hilpert Theater.
In collaboration with the Metal City and Lükaz team you will get an unforgettable show of AXXIS in an unusual ambiente with a very special setlist and flair.
You know that the shows in Luenen are often sold out, so get your ticket as soon as possible.
AXXIS VOTING
Carmine Provenzano released a voting on our AXXIS Facebook fan group to ask you: What is your favourite AXXIS album? So give us your vote.
The band is really interested to know what album will be on top. The more people participate the better result we'll get. :-) Become a AXXIS Facebook fangroup member to vote.
AXXIS new cd release 2017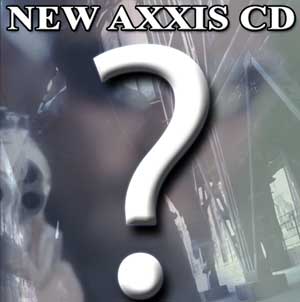 Right now AXXIS are dealing with a great project for their new cd release in 2017.
If everything works fine we''ll get a interessting release:-) So we're looking forward to another great AXXIS production in 2017!

More infos coming soon...
Merry Christams and a happy new year for the best fans in the world! :-)
We wish you all a merry Christmas and a wonderful & happy new year. We have a lot of interessting plans for 2016. More information in January 2016. Stay tuned, keep well and fit and watch out for a great 2016:-)
AXXIS reached pos.8 in Switzerland charts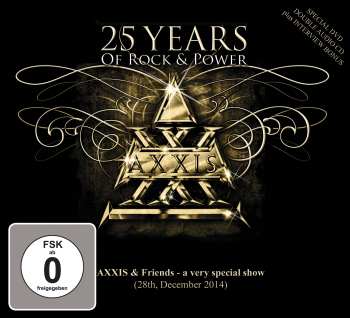 AXXIS reached pos.8 in official Switzerland charts. The Doublelayer DVD+2 Audio Cd's is distributed at the 9th,Oct. 2015 by Musikvertrieb AG / Soulfood Music all over Europe.
DVD Phonotraxx PHP201505 / EAN 4046661411997
The first limited edition is almost SOLD OUT and Phonotraxx will produce the second edition a.s.a.p.
Now you can order the DVD and many more DVD's/CD's in our new onlineshop with Paypal Basket or via prepayment. EASY SAFE & DIRECT.
If desired you can order a originally signed product fo free.
[ONLINESHOP]
NEW AXXIS DVD OUT NOW!!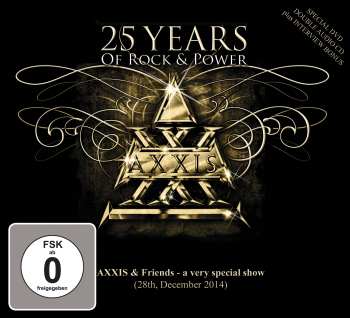 The AXXIS DVD "25 Years Of Rock & Power" is out now. Our tour visitors have had the chance to get the DVD on tour in advance and now...finally it's officially released world wide! :-)
The 3 hour gig took place at December, 28th in 2014 with many friends & guests like Doro Pesch, Viktor Smolksi, Hannes Braun, André Hilgers,Werner Kleinhans, etc.
The sold out show will be available as a very limited edition on DVD with bonus double audio cd.
Available here:
EMP, Amazon UK, and many more...
Downloadable on itunes (CD1 - CD2) Amazon (CD1 - CD2)
AXXIS Tourshirts & Girlies available
The new AXXIS "Living The Dream Tour 2015" collection is available. We've produced an official tourshirt and girlies with tourdates on the back .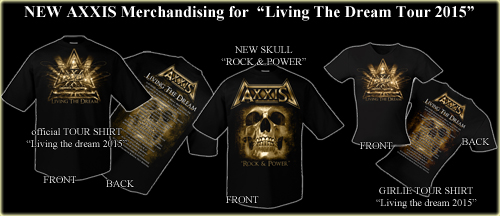 Beside that we want to offer you a special Skull shirt called "Rock & Power" without print on the back.
V.I.P. Tickets available on "Living The Dream Tour"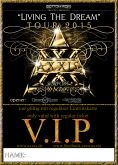 Because of many requests and the very positiv reactions of former VIP Guests, AXXIS decided to offer the special VIP ticket again.
So, if you want to experience the AXXIS soundcheck,
if you want to look inside the AXXIS tourbus,
if you want a meet & greet +foto with the band
AND if your want to get 25% discount on all merchandising article
THAN you have to buy the V.I.P. Ticket :-)
2 opening bands joining AXXIS & Six Magics on tour
After confirming the great Chilian support band SIX MAGICS, AXXIS get 2 wonderful opening bands for their "LIVING THE DREAM" TOUR 2015.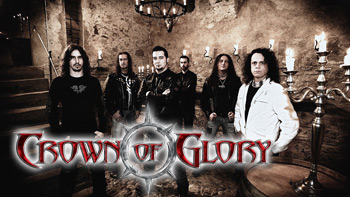 CROWN OF GLORYand CHARING CROSS - both bands from Switzerland - will open the shows on tour.
Hailing from Switzerland which is known for a lot of outstanding metal acts, Crown of Glory made themselves a name and a remarkable fanbase with countless concerts throughout the whole country touring with bands like Doro, Axel Rudi Pell, Pretty Maids, Candlemass or Shakra.
While the history of CHARING CROSS goes back into the late eighties, the actual beginning of the band as we know them today, dates back to 1993, when Pascal Zwyssig, the longest member of the current line up, joined the group. 2013 the story will be continued with the new albumSINSPIRATION, which shows the band's creative progress and the songwriting versatility.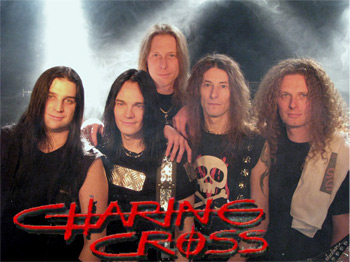 Stamping hard rock tunes, melodic metal songs and some smooth tones…more of everything!!
with Crown of Glory
10.09. CH-Prattel / Z7
11.09. D-Neuenstadt / Stadthalle
12.09. D-Burglengenfeld / VAZ
13.09. D-Bruchsal / Fabrik
18.09. D-München / Backstage
with Charing Cross
25.09. D-Bremen / Aladin
27.09. D-Berlin / K17
01.10. D-Siegburg / Kubana
02.10. D-Lünen / Lükaz
AXXIS Double CD & DVD: 25 YEARS OF ROCK & POWER - Release October,9th 2015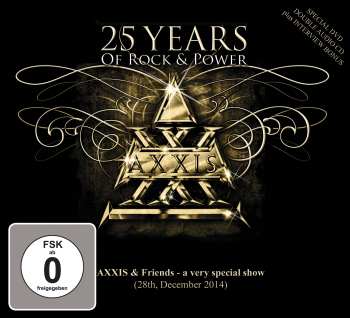 After the great success of "20 Years of AXXIS" DVD AXXIS decided to record a DVD for the 25 Anniversary - again with and filmed by fans. For historical reasons again at Zeche Bochum/Germany. The 3 hour gig took place at December, 28th in 2014 with many friends & guests like Doro Pesch, Viktor Smolksi, André Hilgers etc. The sold out show will be available as a limited edition on double audio CD & DVD
titel: 25 Years of Rock & Power
release date : Ocober, 9th 2015!
Attention: Before the offfical relasedate we will offer the DVD on tour for all visitors!!
AXXIS tour suport: SIX MAGICS (Chile)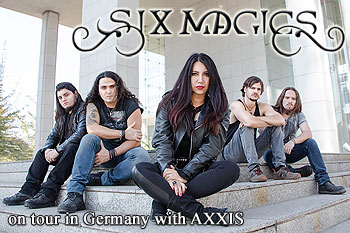 We got a lot of requests regarding our "Living the Dream" tour support.
But now : The decision is made. The support-band for the upcoming Axxis "Living the dream" Tour in autumn 2015 will be "Six Magics".
Six magics is a Chilean metal group formed in 1996. Without question they're one of the most important musical exports from this remarkable country.
We became aware of the Band by Nobby, one of our Fanclub Members. We saw the band on one of Nobby's Metal-Festivals where they used to play a few years ago. We really liked their music and show and now, as we are planning our tour, Nobby put us in direct contact to them.
Now we can hardly wait to start the tour. More information regarding SIX MAGICS
Stefan Weber - the new AXXIS guitar player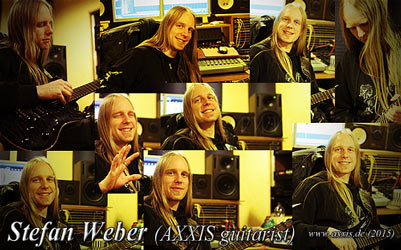 We are pleased to announce that AXXIS have a new guitar player for creative & powerful future plans .
"A new AXXIS era is dawning, because with Stefan Weber, we have an exceptional talent on the guitar! We're really looking forward to a great working relationship and a new, successful AXXIS phase!" said Harry Oellers (keys).
Bernhard adds: "Stefan had its baptism of fire on the Full Metal Cruise and I was really impressed and surprised about his first show performace with us. He fits perfectly into the AXXIS chemistry .
The mood & the spirit on the cruise was the awesome:-)"
[More information about Stefan soon]
AXXIS "Living The Dream" Tour 2015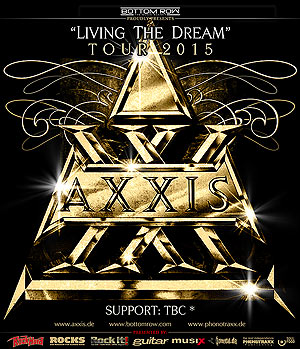 ...and it goes on!
Ready for the AXXIS tour 2015 ?! :-)
Presented by Rockhard, Rocks, Rock it!, Guitar, Musix and Metal.de AXXIS will go on tour according to the motto: "Living The Dream" Tour 2015 !
The dream goes on and on and you could be a part of it. Many clubs, venues and halls are waiting for you and AXXIS to party and celebrate!
Tickets are available in the venues and on eventim
so, get your ticket soon - last time a lot of shows were sold out !
Click on the picture to the right to share it!
Poland cancelled!
Unfortunately Poland was cancelled. Sad, because we really looked forward to play for the first time over there. Hope we'll get another chance to get to know country & people in the future
Welcome to the YEAR 2015
We're looking forward to see you all soon in 2015!
AXXIS are currently planning a lot of thing for this year. The first time in poland, the full-metal-cruise, a new DVD, an official AXXIS tour and many more... as always...the band is very energetic :-)
[ tourdates ]
Download our AXXIS APP for more information and special offers!
Bombastic AXXIS Party in Bochum /Germany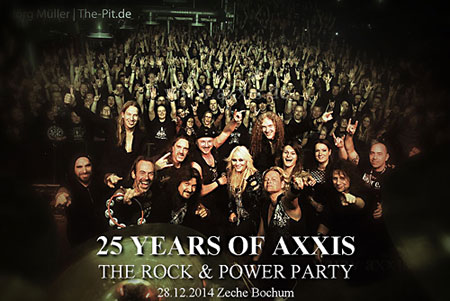 What a bombastic show!
So many great guests!
And so many wonderful & enthusiastic fans!
We wish you all the best fpr 2015!! Hope to see you soon!
DORO will join AXXIS in Bochum!
We're really happy to announce that DORO will join AXXIS in Bochum at the 28th, December for "25 YEARS OF ROCK & POWER!"
It'll be an awesome show! :-)
[ more information ]
2 special AXXIS Christmas gift packages
Only until the 20th, December we will offer two great AXXIS "25 YEARS OF ROCK & POWER" gift packages with an extremely reduces price!!
25 YEARS OF AXXIS SHOW - SOLD OUT!!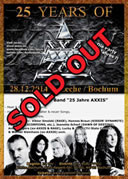 Great news!
One month before entering the stage in Bochum for celebrating 25 years of AXXIS, the show is sold out already. Thanxx to everybody who has bought tickets for this special event in Bochum (28.12.2014). It's be a great evening!!
Actually the venue wanted to start the promotion of the show in a couple of days. But this seems to be unnesassary right now:-)
Because of the SOLD OUT show AXXIS thinking about a new DVD recording. What do you think?
strictly limited AXXIS Anniversary T-shirt/Girlie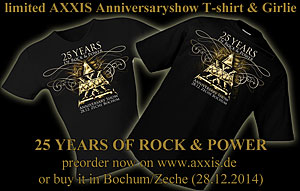 Now you can preorder a strictly limited AXXIS Anniversary T-shirt/Girlie called "25 YEARS OF ROCK & POWER".
This will be available only until 28th, December 2014!
Just write an email with your order, adress and size to harry@axxis.de
Tip: Together with a ticket for the Anniversaryshow this shirt would be a nice christmas gift...who knows? :-)
[ more information ]
AXXIS APP for iTunes & Google Play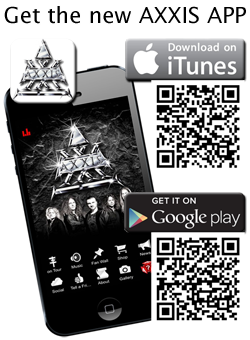 AXXIS are going to release an offical AXXIS Fan App for iTunes & Google Play!
"By using more and more smartphones worldwide and the possibility to sent direct push mails to our fans, we bend over backwards to get an own AXXIS APP!" says Bernhard, who produced this APP in cooperation with Viktor Skrelja of rentanapp.de.
So, with this APP you get:
- direct push mails from the band on your phone
- tickets and gig navigation
- listen to AXXIS music and buy it
- get merchandising in our app-shop
- communicate with other app users & fans
- get band news earlier
- for the future we're planning special offers only for app users
- etc.
more information regarding App & FAQ's
Link to tunes App store:
https://appsto.re/de/-mPv2.i
Link to Google Play Store:
https://play.google.com/store/apps/details?id=com.app_axxis.layout
AXXIS 25 Years Party
Not long to wait now: At the 28.the December 2014 the AXXIS Party will start!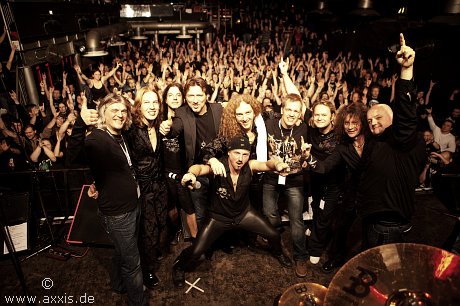 AXXIS are going to celebrate their 25 anniversary at the end of the year 2014 with a lot of guests, fans and friends.
Maybe some of you have the 20 anniversary still in mind. The result was an offical bootleg DVD - the first AXXIS DVD ever!
We're looking forward to a great show with surprising guests just click on the XXVbelow.
Tickets gibt es hier: http://www.eventim.de/axxis
Loveparade commemoration with AXXIS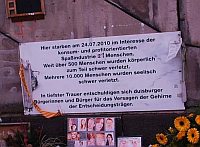 Axxis are going to play on the Loveparade commemoration in Duisburg at the 24th, July. They were invited to perform their song "21 crosses", that has really touched the families of the victims.
Bernhard: "We're also touched by the positive reactions that we've received already regarding the song that creates a kind of memorial musically. But for us another question is important too: Who will take the blame or who will be responsible for this tragedy?"
Here's a video that http://www.youtube.com/watch?v=xQlOHL9VqIU
Very special V.I.P. Ticket
Again it's available! The V.I.P.ticket!
At the request of many AXXIS will offer the special V.I.P. ticket for their show in Bochum at the 28th,December 2014 again. So this special evening could be even more special for some of you:-) Only very limited number of tickets are available! So get it as soon as possible!
new t-shirts, cd's and deluxeboxes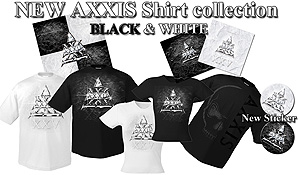 Finally the new AXXIS merchandising is available on this webpage. The Black & White Edition of the cds, some limited deluxeboxes, the current tour t-shirts, a new skull shirt,etc. is online right now. You can get it simply by sending us a mail with your order. You can buy via Paypal or prepayment.
Tour is going on...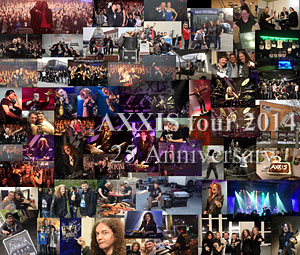 The 25 years tour of AXXIS caused quite a stir in the szene and because of the success it wil go on! A great atmosphere not only on stage but also between the bands in the nightliner & backstage.
For all of the people who missed the tour here you get a smal collection of reviews, fotos and videos.
Beside that AXXIS want to invited you to their "25 Anniversary Show" in Bochum/Germany at the 28th of December 2014!A kind of final show for 2014!
Tour start 26th, March in Germany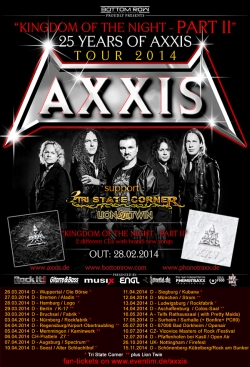 Soon the AXXIS tour will start!
With Tri State Corners & Lion Twin AXXIS will go on tour with a mixture of new and old songs. It won't be easy to satisfy everybody but AXXIS will change and "optimise " the setlist every gig. So please promote the tour and click on the pic to share it!
And the tour is getting bigger. A lot of requests arrived for teh secaond half of 2014 already. So visit our homepage frequently.
BLACK & WHITE - new t-shirt collection

That's how the new t-shirts will look like!
The black & white tour-shirts with coverartwork on front, will be printed with tourdates on the back. The Girlies in black and white as well as the new skull shirt will have no print on the back. Click on the pic to get a better view!
Price:
single tour-shirt in black or white with cover artwork and dates on te back: 25,-EUR
Black & White pak: both tour-shirts black and white together: 40,-EUR
single Girlies in black or white as well as the new skull shirt without dates on the back: 20,-EUR

Printed byArtworks/T-Shirt quality: Fruit of the Loom!
AXXIS on 28 in German official charts
AXXIS' " Kingdom of the night part II " entered the German official media control charts on 28!! The best chart entry ever...even "Kingdom of the night" in 1989 reached "only" 42 ! So lets join AXXIS on tour and get some special tickets here: http://www.eventim.de/axxis
28.02.2014- today - 25 years of AXXIS :-)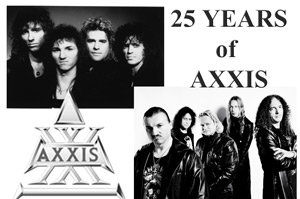 Get VENOM and HALL OF FAME now!
One week prior to the release of "Kingdom of the Night II" (Black and White Edition) by AXXIS you can exclusively pre-download one song of each album on iTunes!

Get "Venom" from the Black Edition here: http://snip.ftpromo.net/kingdomblack
Get "Hall of Fame" from the White Edition here: http://snip.ftpromo.net/kingdom2white
AXXIS cover story in Rock It Mag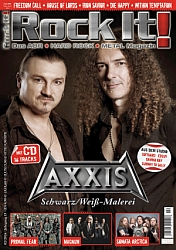 The Rock It - a wellknown German mag - release AXXIS cover story in February.
The songs and the cds went down very well. You can read an interesting interview with Bernhard regarding the production, the recording the reason for a black and a white Album, the choice o the songs.
Besides that you get a complete song of the White Edition on the mag CD. so Buy it and get further information of AXXIS, Primal Fear, Magnum, Sonata Arctica, Gotthard, Edguy, GammaRay etc.
share the news and promote the band :-)
Bonussongs in the deluxebox - but also online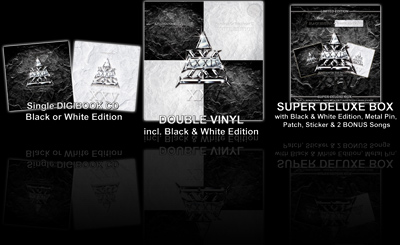 Phonotraxx will give away two bonussongs ONLY for the Deluxe Box of "Kingdom of the night II".
But the digital market will be delivered too.
On Amazon Phonotraxx will offer two other bonussong and on itunes you will get an instant gratification one week before the official release.
[more]
opener LION TWIN confirmed

After confirming TRI STATE CORNER as a great AXXIS support on tour some weeks ago, we want to confirm LION TWIN as an opener for a couple of shows..take a look on which gigs AXXIS will play with both bands. [tourdates]
You are inside the booklet :-)
AXXIS decided to print all names of the participants of the "Ruhrpott-Rock-Dinner" inside the booklet of Black & White Edition. "...the people have given us orientation and positive feedback long before we're done with the mastering..." Bernhard said. Thanxx therefore:-)
Videoclip done - double vinyl & deluxe-box planned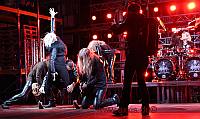 In January 2014 AXXIS have shot their video of VENOM (Black Album) with Holger Hertling, who's also following the band for a documantary. The recordings were made inside the storehouse of the company Szenewerk /Lünen. Here you can watch and listen a small interview of Bernhard (in German) and a soundsample of VENOM (camera sound).
Beside that information AXXIS & Phonotraxx decided to release both albums (Black & White) together as a double vinyl and a double deluxe box!![Info here]
13.12.2013 - AXXIS Christmas-Voucher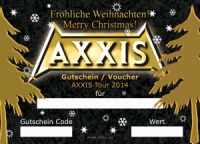 Just in time for Christmas you can purchase a voucher from Axxis to the value of 20-/30- or 50,- Euros. It's the perfect Christmas present for an Axxis Fan.
The value of the voucher will be deducted from the price of your next purchase of merchandise items (of your choice) on a concert during the Axxis-Tour in 2014 and granted you additionally a discount of 10% on the purchasing price.
That's how it works: Just write an eMail to Harry (harry@axxis.de) with the voucher amount you want to get. Harry will sent your individual voucher via mail. Print itand give it away. Just reedem the voucher on our tour 2014 and get a deduction of 10% off the price of our merchandise.

12.12.2013 - the Ruhrpott Rock Dinner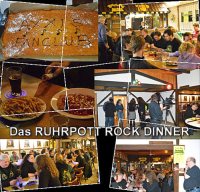 Within 24 hours the tickets for the first and unique "Ruhrpott Rock Dinner" were sold out!
AXXIS has offered a listensession of "Kingdom of the night -part II" only for fans during a great and legendary "Schnitzel"-Dinner. Read about the reaction of the visitors and about their opinion regarding the new AXXIS songs of "Kingdom of the night Part II"
[ fanclub ]
29.11.2013 - tour support & festivals confirmed
The tour is getting bigger and bigger. The "Masters of Rock" (CZ) and the Firefest (Nottingham/UK) and some other German shows are confirmed!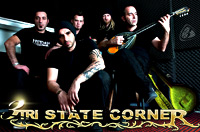 And t a great support band will join the party in 2014. A real insider tip: "Tri State Corner "!
After playing about 250 gigs in 22 countries across 3 continents, these 5 musicans have earned a good position in the rock scene. They are mixing hard & heavy rock sounds with a traditional instrument called bouzouki to create an own ...an unique style...sounds very exciting!
So, get your tickets as soon as possible!
28.10.2013 - Monumental work for the 25-year Anniversary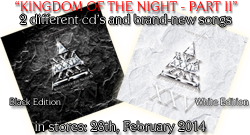 AXXIS are going to release at the magic date 28th, February2014 not just ONE "Kingdom of the night - Part II" but TWO. TWO different cd's with brand-new songs.
For their 25 anniversary a BLACK and a WHITE EDITION will be available representing the entire history from 1989 to 2009 with special, polarising and extremely "axxis-like" songs ...
[ new album ]
12.09.2013 - New AXXIS album in 2014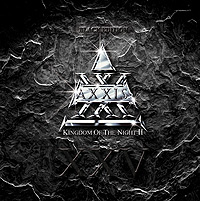 A magic date, a magic album and a band that has developed themselves over the years. They have changed and experimented with a lot of different styles but they always tried to remain true to themselves. Within these 25 year, they have shaped and influenced not only the German rock szene.
25 years ago they entered the German charts with their debutalbum "Kingdom of the night" - exactly at the 28th, February 1989!
Now, 25 years later AXXIS are going to release their new album in February, 28th in 2014 too. .. ...and it just keeps getting better:

The next AXXIS album will be called: "Kingdom of the night II"
So, just to sum up: 25 years later AXXIS will release
"Kingdom of the night - part II" at the 28th, February in 2014!
. ..so, watch out!!
01.08.2014 - Tour 2014 confirmed
2014 will be an AXXIS year. The band will be celebrate their 25 anniversary and they will release their next studio production. We have had the chance to listen to the demo and we have to say ... the songs are amazing:-)

Besides all the 25 anniversary tour in 2014 is confirmed already ...so get your tickets as soon as possible:-)
09.06.2013 - Swedenrock 2013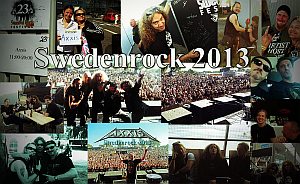 AXXIS are back from the Swedenrock Festival.
They have played there for the first time and... it was incredible. The positive and good reputation of the festival could be attested by the band now. Super weather, kind people, perfect organisation and fantastic fans have made this day special for the band.

THANXX Sweden...
and soon they will be back:
17.08.2013 - Falun / Rockstad Falun Festival !